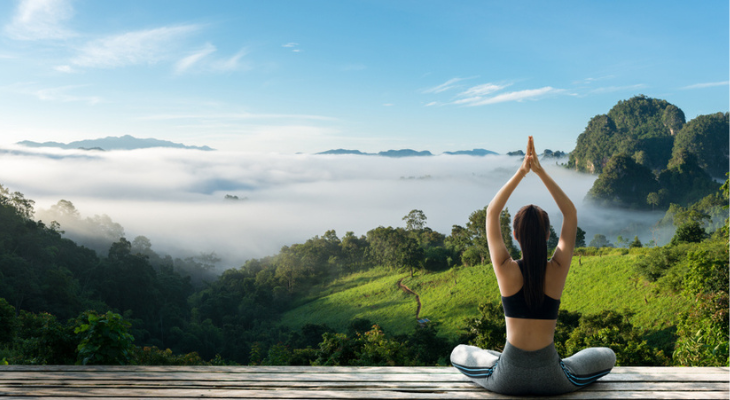 Outdoor Yoga: Is It Right for You?
Think yoga is just an indoor activity? Whether you're a beginner or a pro, outdoor yoga can add a new dimension to your yoga practice.
The Benefits of Outdoor Yoga
Wondering if outdoor yoga is a good choice for you? Take a look at the many advantages of moving your mat outdoors, including:
Less Anxiety. Performing yoga outdoors could help you feel calmer and reduce anxiety. UK researchers discovered that people who exercised outdoors and felt a connection to nature reported less anxiety than those who exercised indoors. Their research appeared in Frontiers in Psychology in 2017. Of course, it's important to choose a peaceful outdoor spot. Exercising next to a busy road won't be quite as relaxing as performing poses in a quiet park or forest.
Better Mood. When you're literally smelling the roses while practicing yoga, you'll probably find that your mood improves. Exercising outdoors can decrease anger and hostility and help you feel more optimistic.
Natural Padding. Nature offers the ultimate joint-friendly surface for perfecting your yoga poses. Soil and sand help your joints absorb shock more readily, in addition to providing a comfortable surface to practice yoga. Before you begin, clear the area under your mat of sticks, rocks and debris.
Meditation Advantages. Do you have trouble focusing when you're trying to meditate? Since spending time outdoors decreases anxiety and stress, you may find it easier to clear your mind when you meditate outside.
Improved Health. Practicing yoga regularly helps you maintain your weight, improve blood circulation, lower blood pressure, and strengthen and tone your muscles. When you perform poses outdoors, you'll enjoy even more health benefits. Exercising outdoors reduces your heart rate, eases muscle tension, and lowers stress hormone levels.
More Energy. Spending time outdoors offers a natural antidote to fatigue. Does your energy level dip in the middle of the day, or are you too tired to do anything other than collapse on the couch at the end of the day? It may be a little difficult to convince yourself to try outdoor yoga at first, but the benefits will be immediately obvious. In fact, exercising in the fresh air offers an energy high that may last for hours.
Vitamin D Boost. Exposure to the sun increases your natural levels of vitamin D, a vitamin that helps your body absorb calcium. Of course, sunscreen is a must for outdoor yoga sessions. Applying sunscreen liberally will reduce your risk of skin cancer, yet still increase your vitamin D level.
Better Sleep. If you struggle to sleep well, you're not alone. Sixty-five percent of Americans surveyed by RestoreZ in 2020 reported that they still felt tired immediately after waking in the morning. Adding outdoor yoga just could help you feel more refreshed. A study of 360 women published in PLOS ONE showed that participants who participated in moderate-to-vigorous outdoor activity slept longer than those who spent less time outdoors. Sleep efficiency was better in women who exercised in the morning rather than the afternoon, according to the study. Sleep efficiency is a ratio that compares the time you spend in bed each night to the time you are actually asleep.
Interested in learning more about the benefits of yoga? Contact us and we'll help you find the perfect class for you.
Sources:
Frontiers in Psychology: The Relationship Between the Physical Activity Environment, Nature Relatedness, Anxiety, and the Psychological Well-Being Benefits of Regular Exercisers, 6/26/2017
https://www.ncbi.nlm.nih.gov/pmc/articles/PMC5483473/
RestoreZ: Sleep Survey Results, 5/22/2020
https://www.restorez.com/blogs/blog/sleep-survey-results
PLOS ONE: The Relations Between Sleep, Time of Physical Activity, and Time Outdoors Among Adult Women, 9/16/2017
https://www.ncbi.nlm.nih.gov/pmc/articles/PMC5587264/
International Association of Applied Psychology: Applied Psychology: Psychological Benefits of Outdoor Physical Activity in Natural Versus Urban Environments: A Systematic Review and Meta-Analysis of Experimental Studies, 3/8/2022
https://iaap-journals.onlinelibrary.wiley.com/doi/10.1111/aphw.12353
U.S. News & World Report: 6 Tips for Practicing Yoga Outside, 4/10/2018
https://health.usnews.com/health-news/blogs/eat-run/articles/2018-04-10/6-tips-for-practicing-yoga-outside
Yoga Journal: 4 Ways Practicing Yoga Outdoors Enhances It, 4/10/2015
https://www.yogajournal.com/lifestyle/balance/4-reasons-science-suggests-practicing-yoga-outdoors-enhances/